Convert Black Sacrament Armor to SE Step-by-Step
---
Article #4 in a 7-part series.
---
This tutorial example converts "Arise - Chapter 1 - Black Sacrament Armor" by AmethystDeceiver for use with Skyrim Special Edition. The same steps apply to basic mods that only require converting ESP and BSA files. Loose files may be included, and this example contains several.
Remember: For personal use only. Please do not repost converted mods without the author's consent.
This tutorial shows a complete step-by-step conversion of "Black Sacrament Armor" for use with Skyrim SE. Mods like this that include new meshes (not including FaceGenData) should be scanned to ensure 64-bit compatibility. If a mod includes custom NPCs then Creation Kit will generate the new FaceGenData for you.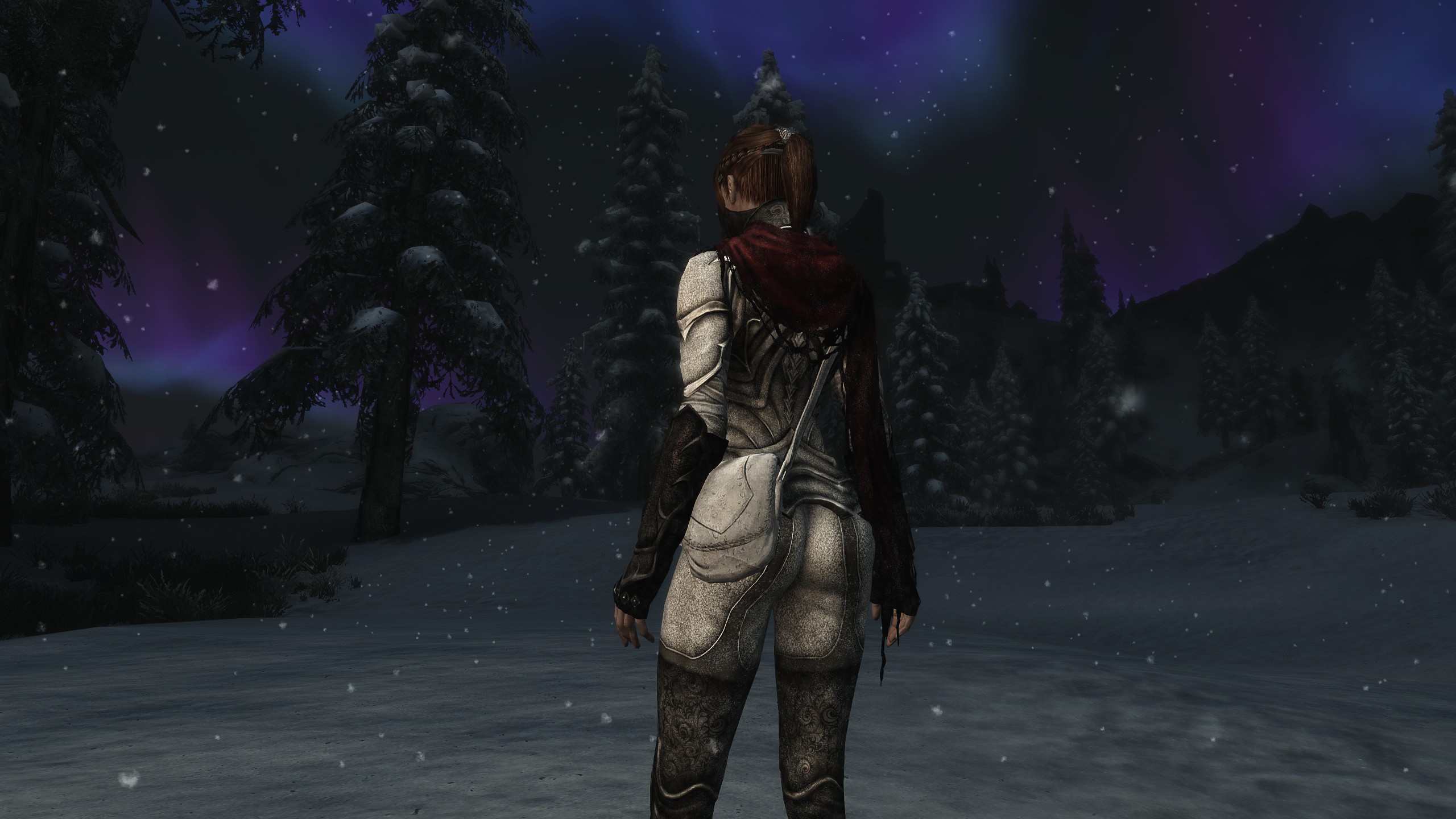 prerequisites
For installation of Creation Kit 64-bit, see "Convert Old Skyrim Mods to SE" (article #2).
important notes
BSA-file must be spelled exactly like the ESP-file (you may have extra BSA files for textures).
BSA archive follows the same folder structure beneath the "Data" folder (meshes, textures, scripts, etc).
outline
Goal: create ESP-file(s) and BSA-file(s) compatible with Skyrim SE.
These steps will work in general for a mod archive containing ESP and BSA files without new animations or NPCs. Review "Convert Old Skyrim Mods to SE" to see what to watch out for when converting a mod in general.
Unpack the zipped archive to an empty folder for inspection.
Use BSAOpt to Unpack the BSA-file to an empty data-folder.
Check files that may need extra tools to update.
Load the ESP-file in Creation Kit and save.
Pack new BSA-file using Archive (included with CK) from your out-folder.
Place all necessary files in your Skyrim Special Edition Data folder.
---
Step 1: unzip or install
Unpack the downloaded archive, or if already in your original Skyrim data folder then you may work from there, too. You may also use your mod manager to install into Skyrim SE. Orginization is up to. This mod includes optional ESP-file for armor replacement and loose script files. Note these for later.
Ensure the ESP, BlackSacramentArmor.esp is in your Skryim SE Data folder.
If using the outfit replacer then also copy or ensure your choice of BlackSacramentDBReplacer.esp is in the Data folder.
Step 2: Unpack BSA with BSAOpt
Create a new folder to hold your extracted files. My folder is on my F-drive, and I created F:\skyrimOut\Data\ to put my extracted files into.
Launch BSAopt (\Skyrim\Data\BSAopt x64.exe) and load the BlackSacramentArmor.bsa BSA-file using the Browse button at the top. In the center, select . and click Apply. At the bottom, use the Browse button to select your folder created above (F:\skyrimOut\Data\) and click the Use Folder button. See the screenshot below. Now click Unpack and check your folder for the files.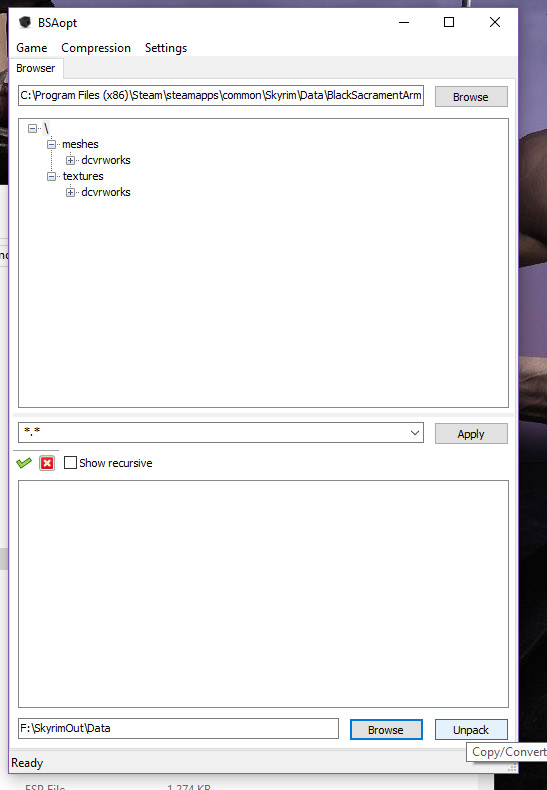 Step 3: Check files (optional for this example)
Here it's a good idea to look through the files to see if we need to do extra work such as converting meshes or animations. Check loose files and files unpacked from the BSA.
This mod includes weapons and armor meshes to check. Ousnius created a handy tool to check and convert meshes automatically: SSE Nif Optimizer. I've scanned them using Nifscan and found all meshes are 64-bit compatible, so you may skip this step if you wish.
For other mods review "Convert Old Skyrim Mods to SE" to see what files might need updating. Also see my "How to Update Meshes for Skyrim SE" tutorial on using Nifscan and NifSkope.
Step 4
Launch Creation Kit (64-bit). Select File -> Data from the menu. We want to be sure Update.esm is a master, so double-click the checkbox beside it to check it. Do the same for Skryim.esm (optional–CK will check it for you).
Find BetterDarkBrotherhood.esp in the list (ordered by date) and double-click the checkbox next to it to X-it.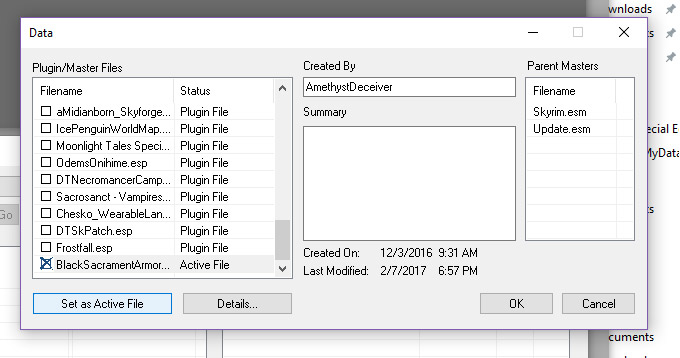 Click Set As Active File and note that the Status column changes.
Click OK to load. There'll be warnings. Just click the Yes to All button for each.
Once the ESP is finished loading, click the save-icon to save it.
Close CK. (Note if ESP includes custom NPCs then CK generates FaceGen data that you may leave as loose files or pack into new BSA.)
If using BlackSacramentDBReplacer then repeat.
(Note: CK automatically makes certain changes that may not apply to some plugins, but better safe than sorry.)
Step 5
Let's pack a new BSA that's compatible with Skyrim SE using the Archive tool which comes with CK. (If your mod comes with NPCs, overwrite old FaceGen data with your new generated FaceGen files.)
Launch \Skyrim Special Edition\Tools\Archive\Archive.exe.
Check the boxes corresponding to the types of files in the archive to compress. If your archived file includes sounds then check the box for sounds. This armor mod only includes meshes and textures. Check the boxes: Compress Archive, Meshes, and Textures.
Before adding your files, go down to Root Dir: and change it to your extracted Data folder (F:\skyrimOut\Data\).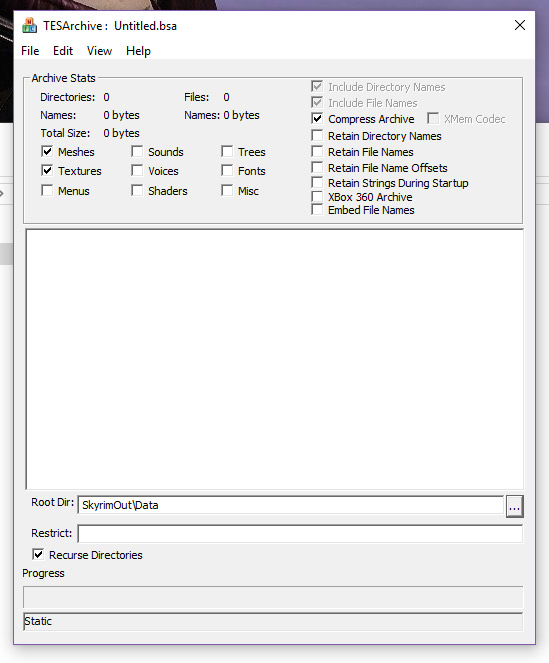 From menu, select Edit -> Add Directory and choose the same extracted Data folder. The box should show your sub-folder structure as if inside the game's Data folder (meshes, scripts, etc).
Ensure your folder structure is correct organized the same as your game beneath the data folder such as seen in the screen capture below. If Data folder appears at the top level, check your selection for Root Dir and try again.
From menu, select Edit -> Check All Items.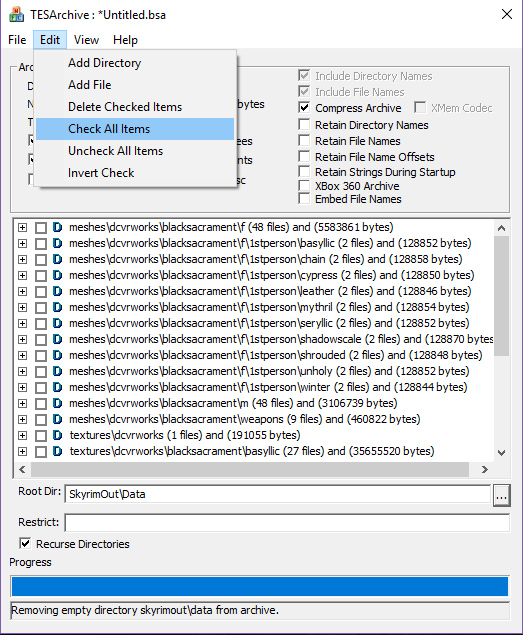 Select File -> Save As and name the file exactly the same as the ESP, BlackSacramentArmor.bsa. If not saved to your game's Data folder, copy it there.
Step 5a: Loose files
You may copy the loose files manually from your old Skyrim installation, or consider creating a new zip-archive for your mod manager. To create an archive, copy your new BSA and ESP files to overwrite the old ones in the archive you unpacked in the first step. Zip and add to your mod manager. For this example, you may only have loose files if you're using custom body shapes (UNP or CBBE) then you'll have a handful of files in \meshes\dcvrworks.
test
Your files, BlackSacramentArmor.bsa and BlackSacramentArmor.esp (and BlackSacramentDBReplacer.esp) should be in your \Skryim Special Edition\Data\ folder as normal. Ensure your BSA-file is spelled correctly. Use WyreBash, LOOT, or the game itself to adjust your load order and enable the ESP(s). Make sure all your loose files are installed correctly.
Play.
If something goes wrong, such as purple textures or invisible armor pieces, review:
Is your BSA-file spelled correctly?
Is your BSA folder structure correct? Compare new BSA using Archive tool (or BSAManager) side-by-side with old BSA using BSAOpt (or BSAManager).
Questions or suggestions?
You may contact me using the form, on Nexusmods, on Twitter @dracotorre, or dracotorre gmail.
---
Article #4 in a 7-part series.
---

Skyrim, Skyrim Special Edition, Creation Kit, and The Elder Scrolls are trademarks of Bethesda Softworks LLC. All other trademarks belong to their respective owners.