For the month of September, the Bicycle Transportation Alliance, or BTA, hosts a Bike Commute Challange in Oregon to promote bicycle commuting. The goal is to introduce new riders by getting local businesses and veteran riders involved. To encourage first time bike commuters, the BTA counts partial commutes. Other BTA events during the year include the popular Bridge Pedal when bridges over the Willamette River in Portland close for the bike tour. On the first day, challenge participants logged over 24,500 cumulative miles (source: BTA).
Portland is very accessible for bike commuting due to a mild climate, bike lanes connecting suburbs, and protected bike parking offered by the city and private enterprise. The local buses have bike carriers for riders wishing to reduce their pedal distance. Many bike riders commute all year, including the wet winter months, but the numbers rise during the summer. Getting around by bike in the downtown area bests a car any day due to low speed limits and congestion. Here are some Portland bike statistics from Portland Office of Transportion:
13% of daily vehicle trips across bridges are bicycles
Over 5,000 bikes cross Hawthorne Bridge each weekday
Annual bike trip increase in 2006 was 18% over 2005
About 5% use a bike as their primary mode of commuting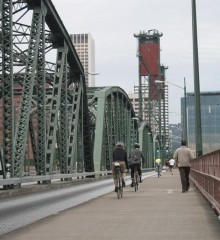 I commute to work by bicycle because it is faster and cheaper. Riding wakes me up in the morning, and the moderate exercise is a nice break from working at a computer all day. Skeptics claim that most bike commuters ride for the environment or fashion, that bike riding is too hard or inconvenient. I believe most of the regular bike commuters agree that the primary goal is saving money. Some save time. Living twelve miles from work, my average bike commute time is 42 minutes door to office while my average car trip is 44 minutes. If I leave earlier in the morning, the car trip time shrinks to 35 minutes, but heavy traffic can increase the drive time to over an hour. Bicycles dodge traffic jams with ease and bypass accidents leaving weather as the primary factor in time. The best part: I don't need to stop at the gym after work; I sprint hard for home cutting my time by another 10 minutes. Parking a bicycle is cheaper downtown, in the office or in an enclosed bike locker. Savings include gasoline, parking price, and gym membership. For single commuters to an office with small cargo, bike commuting makes sense.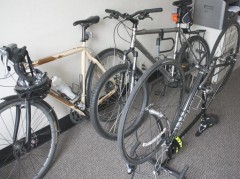 Thanks to efforts by the BTA and encouragement from veteran bike commuters, bicycle commuting has exploded in Portland over the last few years. A decade ago, I was among a very small group of regular riders, but today the major bike routes into downtown receive a near constant stream during commute times. In addition to calling my passes, I installed a bell to ring if my speed is higher. On the hill before the Hawthorne Bridge, the city widened the bike lane since packs of bikes sometimes spilled over into the car lane. Second to a surge in gasoline prices last year, the biggest factor I hear in the increase in bike commuting is the realization that biking to work is not as hard as it seems especially with the help of private enterprise providing parking, support, and showers. Look for the Bike Central network.
My advice to new bike commuters:
Follow the rules of the road (Stop signs!)
Plan your trip: look for quiet streets or bike paths. Longer might be safer.
Maintain a line, checking shoulder before swerving or passing.
Maintain visibility: clothing, lights, and road position.
If a driver yells obscenities, try to keep calm and follow the rules.
Some drivers break the rules. Avoid antagonizing them by being a traffic nanny. A few enraged drivers may unleash their frustration on the next bicyclist.
Don't wear headphones. It's against the law, and you can't hear my bell.
Halfway into the Bike Commute Challenge, my office of four is at 65% bike commute rate with 380 cumulative miles. Does it mean anything? I ride for my own reasons. My co-workers may choose to ride or not. The challenge is a fun event that may introduce a few new bicycle commuters that were uncertain before. Maybe some want to save money on parking, avoid heavy traffic, enjoy a nice day once a week, or ride for the environment. Everyone has their own reasons.
Ride, drive, share the road, enjoy the day.